Welcome to Secondary School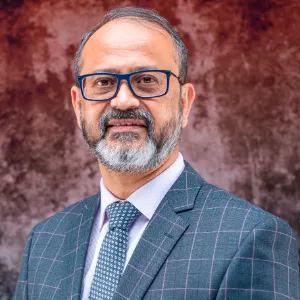 Welcome to Secondary School where we churn dreams into realities. At Premier Academy, every individual child is a unique asset with a potential which is an opportunity for us to spark off. We believe that quality education is a means to an end alongside values as the world now is not merely interested in papers but the person and meritocracy is replacing mediocrity.
The Secondary School admits 12 year olds in year 7 to 17 year olds in 'A' level. In this section, students are meticulously guided in consultation with parents/guardians, on subject choice in order to reap maximum benefit from their learning. During the Ninth Year, choices are made for IGCSE subjects.
Our Science Laboratories are spacious and well equipped with modern science apparatus to enable them carry out any experiments to supplement classroom theory work. Similarly, the Computer Science center ensures that each student realizes the place of Information Technology in the dynamic world giving them an opportunity to utilize it to their own advantage.
The Secondary Library has generously proportioned study carrels and an informal area where pupils can keep abreast with the latest journals, magazines and newspapers. It is adequately staffed with professionally qualified librarians who give guidance on the way to use books and the library itself and work closely with teachers in striving to ensure that the library fulfills its role as the intellectual heart of the school.
The success of the school's approach is reflected by the highly disciplined and responsible graduates alongside the very high percentage of passes obtained in IGCSE and GCE examination each year and the high proportion of top grades. Three-quarters of our Sixth Form students go on to pursue academic degrees, with a great majority of the remainder obtaining professional qualification by direct entry into their chosen careers.
We promote a holistic approach to education through academic, extracurricular and pastoral programmes which take into consideration the diverse cultural backgrounds of the students. Besides we have continuous professional development programmes for our staff that enable them adapt emerging pedagogical approaches that match the changing trends and ensure that learning is fun, meaningful, well enriched and productive to the learners.
Premier Academy has had a foothold in the lives of many students. From its inception, the focus has always been to transform the lives of students and prepare them for the dynamic world with a blend of curricular and extracurricular activities geared towards a product that is ready to make a difference in the world.
As such, we pride ourselves as an institution endowed with reservoir of resources, human and capital and guided by the Principles of ISO, we have never turned our attention from our goal-our customers.
Our academic year runs from September to July. Term I runs between September and November with Midterm tests in October; Term II runs between January and March with Midterm Tests in February while Third term runs between April and July with Midterm Tests in May.
In this regard, we are careful enough to ensure qualified, competent and self-driven teaching staff has access to the latest of resources to drive the curriculum. With major emphasis on research, our students together with the teachers have always had an edge over the rest. This is evidenced by the Alma matter that have doted every sector of the economy-national and global.
Hitherto, we have since become a full-fledged Cambridge institute from Lower Secondary to A levels. To enable us determine our student abilities and focus on refining their potentials, we have CEM tests in lower secondary, a test which is diagnostic in nature which affords the teachers an overview of a student's academic and career profile.
In addition we have lower secondary checkpoint exams that assist expose students to IGCSE expectations and offer them a smooth transition to upper secondary. Currently we offer English language, Mathematics, Science (Covering Biology, Chemistry and Physics) and Global Perspectives. We are soon introducing checkpoint Digital Literacy and computing, Music, Physical Education and Art and design.
We track our student progress immediately they set foot in year 7 to enable us establish their trends in each subject. This gives us a picture of whether they are stagnating, regressing or progressing. Depending on the trend, we have interventions including remedial classes; parent-teacher forums and extra work to enable them stay on course.
The school has heavily invested in Science and Compute laboratories to ensure adequate practicals are done in preparation for the final exams. These laboratories are divided into junior and senior to meet the unique needs of lower secondary and the A levels. Further, the computer laboratories help meet the needs of computer science, coding and Global perspectives.
As a school that celebrates success, we have always celebrated with our top achievers during our Annual Awards Afternoon, where students who excel in internal exams and the external exams are feted. This is an annual event where parents and guardians, staff, alumni and the school board of governors join us in marking this auspicious event in our academic calendar.
Premier Academy has an assessment opportunity that offers both formative and summative assessments. We have a weekly homework time table that ensures students have quality time for each subject. These assignments contribute 20 % of the term's score. The students also sit for midterm tests just before they go for the midterm break. These are done in class as teaching is going on.
We expose our students to a wide range of subjects that gives them a broad view of the dynamic world.
At Premier Academy, we sit for the May/June series of exams. However, in the event students are not satisfied with their grades, they are allowed to take resits in October/November. This allows them ample time to prepare for their Mocks in March and the final exams in May even as teachers continue to guide them during the term.
Premier Academy is therefore a prime academic institution committed to excellence with heavy investments on the learner. To this end we have a blend of curricular and extracurricular activities aimed at producing learners with a difference: critical thinkers, problem solvers and adaptable. As continuous improvement is our mantra, we are ever exploring new ways and collaborating with others to ensure our flag flies even higher.
For the current Year 12 Class, the centre shall only offer re-sits in the October Series. However, for the outgoing Year 13 Class, the School shall offer 1 (one) re-sit opportunity in October series.
Candidates are advised to email the Exams Office requesting for the forms. Once the forms have been duly filled, you will be required to send a scanned copy to exams@premier-sri.ac.ke and receivables@premier-sri.ac.ke
Once the forms have been processed, the Finance Department shall communicate the charges.
Before a re-marking application is processed, the candidate is required to contact their respective subject Head of Department (HoD) to weigh in and advise accordingly.
Once the candidate has made the final decision to have the paper (s) re-marked, they are required to email the Exams Office requesting for the re-marking form.
The charges for re-marking are per component and not per subject. This makes the charges to be expensive compared to the Exams Fees. The charges also vary depending on the services requested.